Tomboy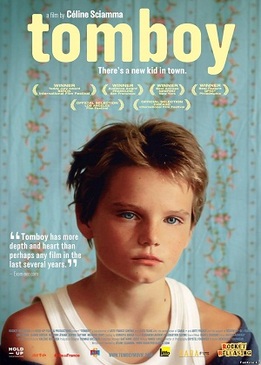 Benjamin and I watched the movie about French teenagers.
The movie is about 10 years old girl Lora, who is moving with her parents to a new neighborhood. Lora and her little sister Janna meet new friends. One of them — Liza is the same age with Lora. who decided to pretend being a boy.  Lora invented for herself a new name and a new identity.
Slowly Lora and Liza fell in love, which made Lora's situation extremely controversial.
This film got a lots of prizes and even recommended for the screening in a French schools.
Benjamin did not like the movie. First he was really bored by the slow path of the film. He got used to an energetic action american crap movies and if nobody running or screaming on the screen each 5 seconds, he things that he is not spending his time correctly.
Partly it is becouse of the use of computer games a lots. Computer provide child with an endless stimulation.
"Tomboy"  was filmed in European tradition when the director is leaving for the spectator the place to breath and to think on there own.
The other problem was the sexual staff inside the movie. This is the story about being different, but also about acknowledging your sexuality.
It contains several episodes that my parents would not allow me to see, when I was 10 years old: kids are checking a gender of Lora, girls are kissing each other…
Personally I agree with Franch ministry of education: kids must watch movies like "Tomboy".
In any case this is not a scary movie at all. The overall ton of it is very positive and the friendship is winning at the end.
This post is also available in: Russian